Jon Rhodes has a wealth of knowledge and experience to help you get the most out of your life.
Jon has worked with people suffering from severe mental health problems since 2001. He has been involved in the successful rehabilitation of many people, helping them integrate back into society. He works with people suffering from severe mental illnesses, such as schizophrenia, autism, personality disorders , and carious secondary illnesses such as depression.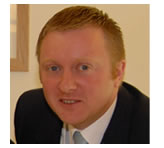 In 2002, Jon expanded his knowledge, and studied to be a clinical hypnotherapist at the London College Of Clinical Hypnotherapy. He was taught by some of the UK's finest hypnotherapists, such as Peter Mabbutt, and Ursula James.
Soon after he started his own practice, offering a home visit service where he travelled to his clients houses. This became very successful, and he was in constant demand.
However Jon became dissatisfied with the limit of patients that his time would allow him to visit. He was also frustrated that many people that needed therapy were unable to pay. He needed to find a solution that allowed him to treat a large number of patients, for a generous rate. Jon found his solution with HypnoBusters.
HypnoBusters offers high quality professional hypnosis audios at low rates. With his background as a professional musician, Jon could oversee the recording process, ensuring high quality recordings. Jon used his unique combination of talents to provide a musical background that enhances the therapeutic properties of his hypnosis sessions.
His recordings are priced way below that of his private sessions. They have the advantage that the patient can listen to them over again, cementing the positive suggestions into their unconscious mind. Imagine being able to press play any time you wish, sit back and relax to the unique therapeutic talents of one of the UK's leading hypnotherapists.
You can get in touch with HypnoBusters and Jon at the places below.
What happens after I have bought an audio?
We instantly send you an email with a download link. Simply click on this link to download your HypnoBusters audio session.
What happens if I have a problem downloading an audio?
If you have any problems downloading an audio you have bought, simply contact us. We will help you all we can, as soon as we can.
How do I listen to the audios?
Locate the file, which is usually in your 'downloads' file. Then double click it to play. Almost every PC has software to play these audios. If you haven't, you can download VLC player for free from this link – VLC Player.
How many times should I listen to each audio?
That is entirely up to you. Some people like to just listen to each session once, whereas others listen to them multiple times. A 'live' therapist would obviously only do a session once, but the advantage of HypnoBusters audios is that you pay for it once, but can listen to it many times.
Can I listen to more than one download at a time?
Yes it is perfectly fine to have several sessions that you listen to on rotation. I would however leave at least one hour in between sessions in order to give the subconscious mind time to process the information.
How does your money back guarantee work?
If you are not completely satisfied with the product, then contact us within 60 days and we will give you a full refund – no questions asked.
Can I get stuck in a hypnotic trance?
Absolutely not! A hypnotic trance is in reality just like a daydream state of mind. It is a perfectly harmless and natural state of mind. You will ALWAYS snap out of it when you are ready to do so.
Is hypnotherapy safe?
Hypnotherapy is perfectly safe as long as it is done by a trained and ethical therapist.
Where was Jon trained as a clinical hypnotherapist?
Jon trained with the London College Of Clinical Hypnotherapy. He finished his formal training in 2003. Check out our About Us page for more information on Jon.
Can I sell HypnoBusters products?
You certainly can. We have an affiliate program that pays a 50% commission for every sale you generate. Check out our HypnoBusters affiliate page for more information.