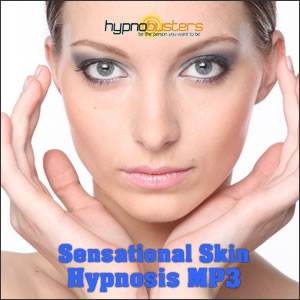 Look great, feel great. Have sensational skin!
Beauty.
Most of us desire being more beautiful. It's in our genes. It makes you walk tall and feel confident. It helps you bag your perfect partner. It makes life better.
It might not be right, but people with more beauty get more opportunities in life.
Poor skin can give you many negative psychological effects. You may avoid social situations and lose self-esteem. You could become embarrassed to stand next to people who seem to have perfect skin.
This session directs your mind to give you sensational skin. Not only is it cheaper than pharmaceuticals, it's more effective. Pills and creams mask skin problems rather than cure them. 
Any skin issue such as acne, rashes, eczema, stretch marks, signs of ageing, rosacea , flaking skin and boils can benefit greatly from my Sensational Skin Hypnosis MP3. Here's why…
Hypnosis improves the blood flow to the skin, greatly enhancing it's ability to repair and replenish. Hypnotherapy also lowers stress levels which is a common cause of skin problems.
"Not only will you look great but you will feel great too! You can be proud and confident of who you are and how you look."

As you run your fingertips over your face you will notice a smoothness, a silkiness you thought you'd lost forever.
Before you buy this Sensational Skin hypnosis download ask yourself these questions:
Would healthy skin improve my life?
Would I like to feel confident in all social situations?
Do I want to love what I see in the mirror?
Download Sensational Skin Hypnosis MP3, give yourself silky smooth skin, and look and feel sensational…