Enlarge your penis with the power of hypnosis…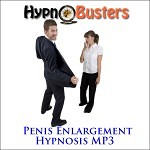 The penis the part of the body which causes the most worry and anxiety to men. When you're unhappy with the size of your penis, this anxiety can creep into your life.
You may shy away from being naked in front of your partner, put yourself down as "not big enough", or avoid starting sexual relationships. Don't worry, because you can help yourself with hypnotherapy.
This session taps into your unconscious mind and directs it to focus your body's resources on growing a bigger penis.
Your penis is just muscle and tissue, and it is perfectly possible to grow muscle and tissue. Body builders for example can make huge gains growing muscle and tissue.
"I couldn't believe the growth I achieved…neither could my girlfriend!"
The muscles in your arm can be enlarged. It's true that it cannot make your arm longer. That's because of the fixed size of your arm bone. Your penis does not contain a bone to restrict its growth in length.
Studies have shown that hypnosis and visualization add significant muscle gains for bodybuilders. Your penis can be enlarged using the same method.
Feel more masculine and at ease with yourself with my Penis Enlargement hypnosis download. Download now…
$15

$12

(Save $3!!!)
Track length: 16:40
Recorded by Jon Rhodes
What happens after I have bought an audio?
We instantly send you an email with a download link. Simply click on this link to download your HypnoBusters audio session.
What happens if I have a problem downloading an audio?
If you have any problems downloading an audio you have bought, simply contact us. We will help you all we can, as soon as we can.
How do I listen to the audios?
Locate the file, which is usually in your 'downloads' file. Then double click it to play. Almost every PC has software to play these audios. If you haven't, you can download VLC player for free from this link – VLC Player.
How many times should I listen to each audio?
That is entirely up to you. Some people like to just listen to each session once, whereas others listen to them multiple times. A 'live' therapist would obviously only do a session once, but the advantage of HypnoBusters audios is that you pay for it once, but can listen to it many times.
Can I listen to more than one download at a time?
Yes it is perfectly fine to have several sessions that you listen to on rotation. I would however leave at least one hour in between sessions in order to give the subconscious mind time to process the information.
How does your money back guarantee work?
If you are not completely satisfied with the product, then contact us within 60 days and we will give you a full refund – no questions asked.
Can I get stuck in a hypnotic trance?
Absolutely not! A hypnotic trance is in reality just like a daydream state of mind. It is a perfectly harmless and natural state of mind. You will ALWAYS snap out of it when you are ready to do so.
Is hypnotherapy safe?
Hypnotherapy is perfectly safe as long as it is done by a trained and ethical therapist.
Where was Jon trained as a clinical hypnotherapist?
Jon trained with the London College Of Clinical Hypnotherapy. He finished his formal training in 2003. Check out our About Us page for more information on Jon.
Can I sell HypnoBusters products?
You certainly can. We have an affiliate program that pays a 50% commission for every sale you generate. Check out our HypnoBusters affiliate page for more information.