Want to learn more about hypnosis?
Hypnosis is a great tool for reprogramming your subconscious mind to change your habits and urges. Want to know more about how it works?
Learn how hypnosis can help you improve your life in my fascinating new ebook, "The Truth Behind Hypnosis".
Here is just some of what you will learn…
How to reprogram your unconscious mind – you'll be amazed at how easy this is to do when you follow my simple instructions.
The five states that need to be present before you can be hypnotized.
How hypnosis really works and how to determine if it will work for you – why waste your time and money when you can read this and know for sure whether hypnosis is right for you!
What to expect when you undergo hypnosis for the first time – including what it really feels like to be hypnotized!
How to find a good hypnotherapist – find out what you should really look for.
The history of hypnosis – do you know when hypnosis was really invented? … there is much more that is sure to surprise you here!
Common hypnosis myths dispelled – it's time you learned the real truth about hypnosis and what it can and can't do for you!

How to discover your unconscious mind and determine if it is blocking your attempts to change – I've even included five questions that will help you discover the real cause of your problem whatever it might be!
The science of hypnosis – there is more to hypnosis than just self-induced hypnotic tapes or the receiving of suggestions from a hypnotist … discover what it is here!
6 types of hypnotic induction – and how to determine which would be best for you!
5 characteristics of people who hypnosis works well for – and how to develop these same characteristics yourself in no time!
Plus, you will also learn: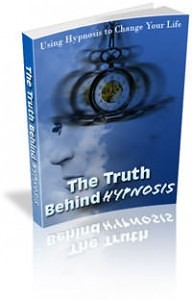 The difference between hypnosis and hypnotherapy.
How to use hypnosis to lose weight fast.
How to use hypnosis to send your academic performance sky-rocketing.
How to use hypnosis to improve your memory and concentration.
How to use hypnosis to improve your health.
How to use hypnosis to cure an eating disorder.
How to use hypnosis to improve your sales ability.
How to use hypnosis to become more assertive.
How to use hypnosis to reduce your anxiety.
How to use hypnosis to stop smoking.
How to use hypnosis to relieve pain.
6 tips for succeeding at self-hypnosis.
And much, much more!
Get peace of mind about hypnotherapy and download right now. 
EDIT – HURRY, for a limited time this book is half price…
$10

$5