If you've been hustling the search engines for Derren Brown's secrets, you've come to the right place! Here are the secrets of how Derren Brown performs his miracles…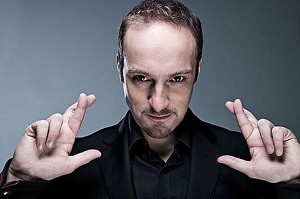 Derren Brown is an English magician and 'psychological illusionist'.  Derren has made many notable TV appearances in his series 'Mind Control' and 'Trick Or Treat', and several TV specials, such as 'The Heist', 'The System', 'Séance' and 'Russian Roulette'.
What sets Derren Brown apart from his peers is that he is openly sceptical about paranormal phenomena.  He clearly states that he has no psychic or paranormal abilities, yet proceeds to perform the same phenomena as those that claim such things. He also uses a lot of hypnosis and NLP techniques within his routines.
Learn Derren Brown's techniques for yourself with one course!
Derren Brown started off as a traditional conjurer, and was very good at it.  In 1996 he started performing stage hypnosis shows at the University of Bristol under his stage name of Darren V. Brown.  Eventually he developed his own power of suggestion techniques and became a 'psychological illusionist' working for the UK's Channel 4.
I am a big fan of his work, and have enjoyed watching his shows, and reading his books.  However I see all over the internet people analysing Derren's use of NLP, hypnosis, body language and psychology.
Many people are using his material as a learning tool, and to back up their opinions on therapeutic techniques or theories.  Whilst it can be beneficial observing what he does, be very careful as YOU DO NOT KNOW WHAT TECHNIQUE HE IS USING AT A PARTICULAR TIME.  He may, for example, be pretending to be using NLP, when really he is using traditional magic.  Believe me, he does this A LOT.
In one of his shows, Derren Brown gives a demonstration of using suggestion to sap the strength of a big tough boxer.  He has him stand still and easily lift up a woman.  Derren uses some accurate techniques to suggest that he can no longer lift the women.  Sure enough the boxer can no longer lift her.
Was it the powerful suggestions that caused this? No. The women in the film took a step back after the 'suggestions' were given, and Derren Brown controlled where the boxer stood.  This makes it much harder to lift, and massively accentuates the power of Derren's suggestions.
Derren employs some sophisticated techniques from many disciplines in order to back up his illusions.  He is so convincing that he fools experts in many fields.  I see countless discussions on the internet about his psychological techniques, and how he uses them to influence people.  People forget that he is an entertainer and a magician.
Occasionally his tricks DO rely on hypnosis.  (Click here for 3 FREE hypnosis sessions worth $45) For example getting someone to put a needle through their hand, or convincing them they are drunk are possible with hypnosis.  Seeing genuine hypnosis demonstrations can misdirect you into believing his other illusions are genuinely using hypnosis.
Derren appears to genuinely use NLP techniques when he persuades a man to give him his wallet.  He uses classic pacing and mirroring to gain rapport, an Ericksonian handshake induction to quickly induce a trance, and says "thank you for give it to me, are you sure you don't mind?".  He covertly uses the command 'give it to me'.
This COULD work if done right, and in the right context.  People know who Derren is, and deep down know that he would not permanently steal their wallet – there is some trust already there.  I'll bet Derren would have struggled if he was an unknown doing this.  This technique is far from guaranteed to work.  He may have tried 10 times before getting his take.  He's not going to show you all his failures is he?  If you filmed yourself asking 100 people for directions, and then slipped in a request for their car keys, you will probably get at least one success – especially if they know who you are.
In a Daily Telegraph article published in 2003 Simon Singh criticised Derren Brown's early TV appearances, arguing that he presented standard magic and mentalist effects, such as the classic Ten Card Poker Deal trick, as genuine psychological manipulation. Derren himself states that he uses 'magic, suggestion, psychology, misdirection and showmanship' in order to achieve his effects.  He goes on to say that 'I happily admit cheating, as it's all part of the game.  I hope some of the fun for the viewer comes from not knowing what's real and what isn't.  I am an entertainer first and foremost'.
In early 2005, Derren Brown travelled to the United States to convince five leading figures that he had powers in their particular field of expertise.  These were Christian evangelism, alien abduction, psychic powers, New Age theories and contacting the dead.
Derren succeeded in convincing four of the five "experts" that he had powers, and they openly endorsed him as a true practitioner.  The fifth expert, the Christian evangelist Curt Nordheilm, whilst impressed by Derren, asked to meet him again before giving him an endorsement.  The concept of the show was to highlight the power of suggestion with regard to beliefs and people's abilities, and the failure to question them.  His conclusion was that people hear things that support their own ideas, and ignore contradictory evidence.  This is known in psychology as 'confirmation bias'.
He's NOT the messiah!
Budding hypnotherapists, NLPers and other practitioners are doing the exact same thing.  Many perceive Derren as an expert in their chosen field, and choose to learn from him.  Whilst I am sure that Derren is very knowledgeable in these areas, he is an entertainer and magician.
I think there is something within us all that wants to believe he is amazing at using hypnosis and NLP.  Like me, we are all still children at heart that want to believe in the tooth fairy and Father Christmas.
Enjoy his shows, as they make compelling viewing.  Enjoy trying to decipher what technique he is using at a particular time.  But be wary – take with a pinch of salt what can be learnt from him.
Read a hypnosis or NLP book if you want to learn.  They may not be as much fun, but they will give you a greater understanding.  If you pay too much attention to Derrens' techniques, you could find that your perceptions of hypnosis and NLP become as bent and distorted as the illusions he creates.  Our minds naturally try and find a single unifying method of how something is achieved, which is how he fools us so consistently.  There is no single explanation of how he achieves his effects.  That is the secret to how he keeps us guessing.
If you want to properly learn the art of conversational hypnosis, then this comprehensive pack comes highly recommended. Please click on the image bellow for more details…
2 Responses to Derren Brown Secrets Revealed
What happens after I have bought an audio?
We instantly send you an email with a download link. Simply click on this link to download your HypnoBusters audio session.
What happens if I have a problem downloading an audio?
If you have any problems downloading an audio you have bought, simply contact us. We will help you all we can, as soon as we can.
How do I listen to the audios?
Locate the file, which is usually in your 'downloads' file. Then double click it to play. Almost every PC has software to play these audios. If you haven't, you can download VLC player for free from this link – VLC Player.
How many times should I listen to each audio?
That is entirely up to you. Some people like to just listen to each session once, whereas others listen to them multiple times. A 'live' therapist would obviously only do a session once, but the advantage of HypnoBusters audios is that you pay for it once, but can listen to it many times.
Can I listen to more than one download at a time?
Yes it is perfectly fine to have several sessions that you listen to on rotation. I would however leave at least one hour in between sessions in order to give the subconscious mind time to process the information.
How does your money back guarantee work?
If you are not completely satisfied with the product, then contact us within 60 days and we will give you a full refund – no questions asked.
Can I get stuck in a hypnotic trance?
Absolutely not! A hypnotic trance is in reality just like a daydream state of mind. It is a perfectly harmless and natural state of mind. You will ALWAYS snap out of it when you are ready to do so.
Is hypnotherapy safe?
Hypnotherapy is perfectly safe as long as it is done by a trained and ethical therapist.
Where was Jon trained as a clinical hypnotherapist?
Jon trained with the London College Of Clinical Hypnotherapy. He finished his formal training in 2003. Check out our About Us page for more information on Jon.
Can I sell HypnoBusters products?
You certainly can. We have an affiliate program that pays a 50% commission for every sale you generate. Check out our HypnoBusters affiliate page for more information.